To our shock and dismay... last night on the premier episode of "American Candidate" on Showtime, our favorite candidate, and fellow gay DCer Chrissy Gephardt was the first to be sent home - All because of that backstabbing Doris...oh how we hate you! This just goes to show what is truly wrong with politics today...even if it is fake politics! On a good note, at least now we don't have to watch the rest of the season! WE LOVE YOU CHRISSY!
American Candidate:Boo...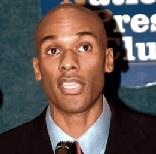 On a side note, did anyone who happened to watch American Candidate get a chance to witness the nauseating character that is Keith Boykin? First of all this guy actually thought about voting off Chrissy so he could have a market on the gay vote. He made the right decision not to. His boifriend/"campaign manager" is the equivalent of a yipping chihuahua that you just want to kick the hell out of. And him and his boifriend are
so in love
that you just want to puke all over your own genitals in order to stop having any sexual thoughts so that you do not end up like them. I mean, the man started crying about their relationship like was a play on some tragic Shakespearean piece. Have his balls dropped yet? We do not want some whiney priss as our American Candidate. Vote him off, NOW!
Visit the Boykin...
On another note, has anyone noticed how gay the American Candidate show is? If the candidate was not gay, we think their campaign manager was. It was like
Queer as Folk
, but really really sad.